Silver price sinks as Reddit buying frenzy pauses
The buying frenzy that sent silver to an eight-year high is showing signs of stalling.
Silver in London and New York dropped more than 5% after CME Group hiked margin requirements for futures.
Silver futures on the Comex exchange were down 0.9%, at $29.1 an ounce on Tuesday morning.
"The rush in silver was the perfect moment to take profit," Georgette Boele, an analyst at ABN Amro Bank NV told Bloomberg.
"Investors will liquidate their positions when "they realize that prices can't be pushed higher."
Retail investors cannot directly access the wholesale silver market, so instead, they have bought into bars and coins.
The UK's Royal Mint said on Tuesday it saw 14 times the usual demand over the weekend for its silver products, including bars and coins.
US bullion broker Apmex warned on Monday of delays in processing silver transactions because of surging volumes.
While a rapid spike in demand has tightened supplies, there is plenty of metal around and delays should ease once it can be shipped to where it is needed, dealers and industry experts said.
Kevin Rich, global gold market adviser for Australia's Perth Mint, told Reuters that while dealers of coins and bars might see some supply constraints and therefore charge higher premiums on these products, the Mint does not anticipate any such issues.
Backlash
The two posts on Reddit that prompted investors to pile into the iShares Silver Trust, known as SLV for short, were put up last week by the user jjalaj30. The user appears to have created the account nine months ago and has only written in the WallStreetBets forum twice — after investors on the board sent GameStop shares soaring. The posts have since been removed.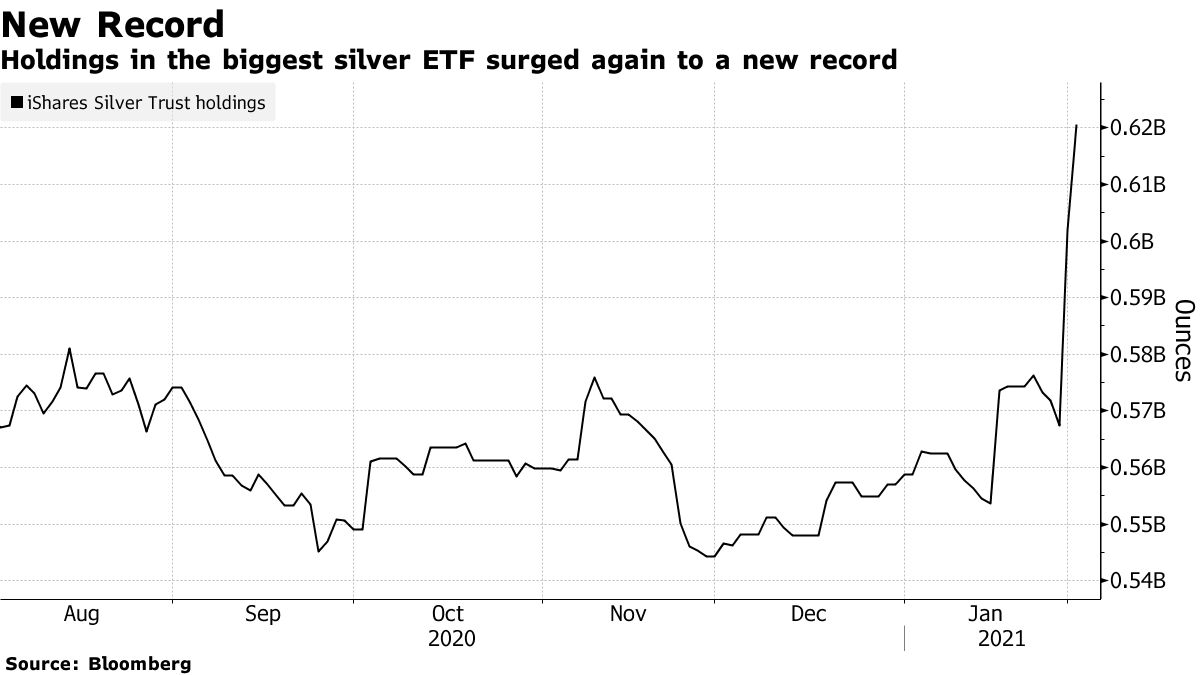 Money managers have had a net-long position on the metal since mid-2019, making it unlikely that retail investors could accomplish the kind of result they've produced so dramatically in stocks like GameStop.
Some Reddit users are speculating as to whether the user behind them was just trying to game the markets.
GameStop's shares were down 42 per cent at $130 in pre-market trading after scaling a high of $483 last week.
"While the silver market will likely survive this intense focus, what this event does represent is that populism is still a growing political force, now with the power to move markets." Goldman Sachs Group wrote in a note.
"Silver prices are likely to remain volatile, but lower than expected US 5- year real rates, and an upcoming end to de-stocking in India and China through 2Q'21 could see prices rise to $33/oz," Citibank analyst Maximilian Layton told the Financial Post. 
Robinhood, the easy access brokerage app which has fueled the trades, raised another $2.4 billion in funding on top of the $1 billion it raised last week after its finances were strained by the retail trading frenzy.
The US House of Representatives Financial Services Committee will hold a hearing on the market volatility involving GameStop Corp and other stocks on Feb. 18.
One of the investors who helped direct the world's attention to GameStop told the Wall Street Journal he's just a normal guy.
"I thought this trade would be successful," said Keith Gill, 34 years old, known as "DeepF—ingValue" by fans on Reddit's WallStreetBets forum.
"But I never expected what happened over the past week."
Silver miners
Avino Silver & Gold's shares rose as much as 129% in New York on Monday as trading volumes surged after the 53-year-old company was lifted in the whirlwind of the Reddit frenzy. The surge came after the company disclosed last week plans to sell up to $25-million of newly issued shares into the US market. Tuesday morning, Avino's shares were down 21% on the TSE.
Fresnillo Plc's shares were down 6% in London. First Majestic dropped 23% in New York.